Chandler is an open source, cross platform PIM (Personal Information Manager) product that has been in development since 2001, but has yet to get to a 1.0 version. It is being built by the Open Source Applications Foundation (OSAF) and has been funded to date by Mitch Kapor, who is famous for founding the first popular spreadsheet app Lotus 123.

Earlier this month, OSAF announced that Mitch Kapor was stepping down from the OSAF board and will stop funding Chandler by the end of 2008. This was viewed in some quarters as signaling the death of Chandler.
Blogger Hank Williams has a pretty funny post comparing Chandler and Kapor's role in it to the 80's movie Weekend at Bernies, in which 2 guys carry around a dead guy (Bernie) through a whole movie. Incredibly, there was a sequel too!
But is Chandler really dead in the water? Why is it taking sooooo long to get to Version 1.0. They're still on 0.7, after 7 years!
I think Hank hit the nail on the head when he said that "Chandler was hurt by a shift from desktop applications to web applications." He mentions that competing apps such as iCal, Google Calendar, and dozens of others "beat Chandler to the punch." I would add Zimbra to that list – it managed to build up a solid email/calendaring app in less than 2 years, which eventually got acquired by Yahoo late last year.
But having said that, there is a Chandler product in preview that people can check out. Lifehacker did a good review in late December '07, noting that "while it's still got kinks to work out, it looks as promising as its vision." Lifehacker describes Chandler as "essentially a combination calendar, email inbox and task list for the individual, as well as a collaboration tool for small groups."

Chandler desktop version circa Jan 08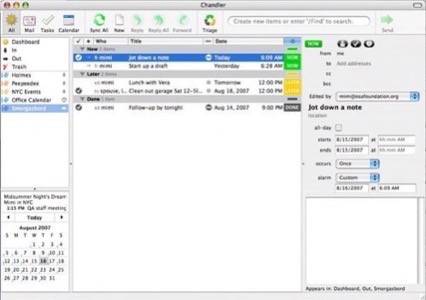 The promise of Chandler has always been that it will be an alternative to the costly Microsoft Outlook/Exchange combo, although as noted below OSAF is now attempting to downgrade that expectation and make Chandler more of a middleware or add-on product. Whatever the case, the Lifehacker review hinted that the reality is a buggy and not-ready-for-primetime software. One commenter confirms this suspicion:
"I've tried Chandler many times throughout it's development and each time I'm am disappointed. They have a lofty promise and goals, but I think they are still far far away from really achieving that. As much as I would like to try and find a worthy open source / free alternative, I just don't believe there is (or will be soon) anything that comes close to the Outlook/Exchange environment."
It's also troubling, after all these years, to see Chandler reaching for new product strategies and still defining what the core product offers. In another blog post, OSAF's Mimi Yin remarks that they want to "extend Chandler to reach into places where there are already users", such as Thunderbird plug-in, SMS to/from mobile devices, Facebook app, iGoogle widget. The Thunderbird connection is a sensible idea though; and one I raised with Mitchell Baker, Chair of the Mozilla Foundation, in September when Mozilla launched a new organization to develop Internet mail and communications software. Mitchell was non-committal on it, but surely it makes sense for the two open source organizations to work closer together to solve the email/calendaring conundrum that OSAF is struggling so much with?
But going back to the OSAF blog post from Mimi Yin, which also noted that OSAF must "converge on a crisp articulation of Chandler's core offering. In particular, who is Chandler intended for, what problems does it solve and how does it solve them?"
Honestly, I can't believe they are still asking that question nearly 7 years after the Chandler project first began. Another post from Yin tries to flesh out more of the product strategy, but it is a painful read. For example: "Chandler is meant to live in the middle of all these tools as a way to pull all the disparate bits and pieces of information we receive out-of-context, into a contextualized, personal and shared 'source of truth'."
Conclusion
I was a big fan of Chandler when it first started and avidly followed the mailing lists and announcements. I tried it out a few times too, in its early incarnations. I lost interest though when web 2.0 came along and apps like Google Calendar and Zimbra actually delivered working products that did pretty much what Chandler was promising, albeit on a smaller scale.
But perhaps now is the time to check out the desktop and Web versions of Chandler, again. I'm no longer holding my breath though – it would be a major surprise if Chandler ever did amount to an Outlook/Exchange competitor, nearly 7 years after starting and with a 1.0 release seemingly still years away.
So can it survive the year, especially after Kapor's money stops coming in? Given that the current 0.7 product is buggy, the product strategy is muddled, and the project is nearly 7 years old…. well it would be a brave person to bet on Chandler's survival post Kapor. Everyone hopes it will, being open source and cross platform – but at some point reality has to set in. That point will be the end of 2008, if it still hasn't reached 1.0 or at least a workable beta.