Open source software development tools provider SourceForge.net, today officially launched their SourceForce.net Marketplace, an eBay-like online market for buying and selling open source services and support. The Marketplace has been in closed beta for the better part of the past year, but today launched to the entire SF.net community.

The Marketplace looks and functions essentially like eBay, where people can offer services and support for open source software projects listed at SF.net (think installation, customization, training, etc.). Listings are free, and SF.net takes a cut of sales, usually about 10%.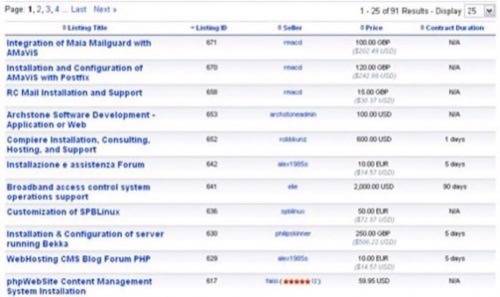 Because the Marketplace doesn't dabble in auctions — people are putting up their services for sale with a set price — it seems a bit odd to follow the eBay model, rather than let people create a menu of offered services. These are services, not products that can sell out, and can presumably be offered for sale more than once. Why not let people list once, and take multiple sales from the same listing?
The site has about 700 listings now, but SourceForge.net counts over 160,000 projects and 1.7 million users, which means the potential market for the Marketplace is enormous. The company is aiming to serve the "long tail" with this effort — companies that want to use open source software or can provide services but lack the means or capital to deal with larger firms or land big clients. "I don't think there's anyone serving the long tail right now but us," SF.net VP Mike Rudolph told IDG News.
SF.net declined to specify how they think the Marketplace will fit into their overall business model. "This is a long-term strategic play for us," continued Rudolph. "We've done some staffing up to support this. Ultimately, our hope is that it affects the economics of our business. But we are not forecasting that revenue at the moment."