I'm at the Graphing Social Patterns conference in San Jose for the next two days. I'll be covering the event for Read/WriteWeb and doing a few interviews on Read/WriteTalk. This morning Seth Goldstein, Co-Founder & CEO of SocialMedia.com, gave a presentation etitled Appvertising: The Future of Social Advertising. I also sat down with Seth after his presentation and recorded a quick interview for Read/WriteTalk.

Seth Goldstein is a serial entrepreneur, who has been in the Internet business since 1995 – when he created SiteSpecific, one of the early Internet advertising agencies. Seth was also a Co-Founder of AttentionTrust.org, a non-profit group that explores and explains many of the issues around the attention economy. (For more information on the Attention Economy, check out our coverage here). He also helped start a company called Root Markets, that focused on commercializing many of the Attention Trust themes.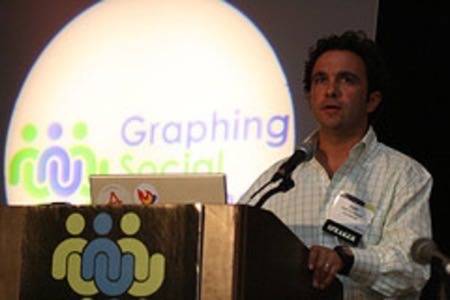 Seth's slides are available on SlideShare and embedded at the end of this post. The issue I want to focus on in this post is his vision for SocialMedia.com, which Seth described as an 'app network'. The slide below explains: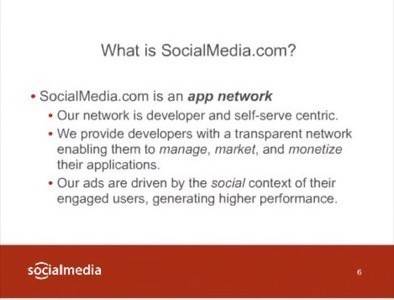 At this level, it is tempting to describe SocialMedia as 'Yet Another Facebook Ad Network'. After all, this is a very risky business due to the rumors that Facebook will create their own ad network. Seth had a great response to those concerns, drawing an analogy to FeedBurner – who he said is a "hero" for him. FeedBurner remember started up with no proprietary advantage or secret sauce to compete with Yahoo! and Google. Despite that, Goldstein credits Dick Costello with having a "clear vision for what he wanted to do with FeedBurner." The Feedburner team kept innovating and understanding their customers better than the big companies; ultimately creating something very creative and valuable.
Next Step in Attention Economy?
So what is Seth's creative vision as an analog to Dick's vision for FeedBurner? I think it ties back to his Attention Trust work. So in my interview, I asked Seth how SocialMedia related to his past work with Attention Trust. He responded:
"Attention Trust is a non-profit, so there is really no connection between commercial things that I or anyone else might pursue. At the same time, I'm one person I'm one person … I think what ties a lot of my recent experience together is the way in which consumer data is seen as something expressive not something passive. And so the takeaway here is when you click on something, search for something, fill out a form, leave a trail of websites that you have visited. All of that in one regard is a passive residue of your historical behavior. But increasingly, web technologies and tools are enabling publishers and I hope increasingly individuals themselves to turn that data back into real end-user benefit. Whether that be personalized recommendations, better targeting things like that that really benefit and leverage that historical data. That is really where the attention data hits the pavement and we get some really good traction. Where I have been focused recently in terms of SocialMedia is trying to capture all of this user generated content and user generated response to create forms of advertising and other engagement tools to create better and more sustainable applications on the social media architecture."
Conclusion
I don't know if SocialMedia will ultimately be successful or not. It's early and this space is very crowded with players like VideoEgg, RockYou and App Fuel. Plus, as we already mentioned, Facebook is rumored to be creating their own ad network. I find the analogy to FeedBurner compelling – but it remains to be seen if Seth's vision will be enough to drive market innovation (as FeedBurner did).
Here are all of Seth's slides from his presentation today:
Note: Seth Goldstein photo credit B D Solis Flickr