The firestorm that erupted at Digg earlier this week over a censored post has led to a lot of discussion about the nature of censorship in a world where everyone is a publisher. Called "The Great Digg Revolt," by some, the incident illustrated how much power users have over the social sites they contribute to. First, though, here's a summary of what happened for those few of you who have been living in a cave: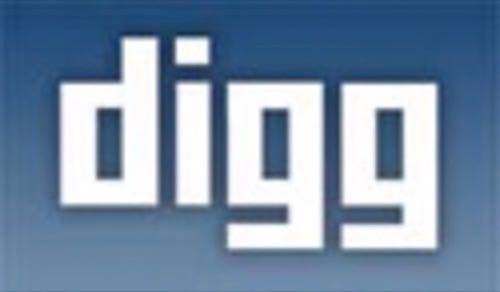 30th April 2007: A user posts a link on Digg to the encryption key that is used to crack HD DVD protection
30th April 2007 – Midnight PST: Digg pulls the story and bans the user. This causes other users to submit stories about the encryption key and the efforts to suppress it. Some people speculate that Digg was censoring the story because HD DVD may have been an advertiser.
1st May 2007: Another story surfaces about the Advanced Access Content System's (AACS) ongoing efforts to suppress the publication of the key since February. AACS is the the creator and distribution authority for the HD DVD encryption.
1st May 2007: Huge numbers of Digg users, in an act of defiance, start posting and digging stories that mention the encryption key.
1st May 2007 – 1PM PST: Jay Adelson posts on the Digg blog. He explains that Digg's survival is dependent upon complying with intellectual property laws and they removed the stories to shield themselves from potential lawsuits.
1st May 2007: Digg users don't buy it, and spend the rest of the day flooding the entire front page of Digg with stories about the crack, burying anything else, essentially taking over the page (and causing it to go down completely a few times). The encryption key, meanwhile, explodes across Google, with thousands of search results appearing overnight. Wikipedia also gets in on the act, locking pages that are repeatedly being used to publish the number.
1st May 2007 – 9PM PST: 8 hours after Jay'Äôs post, Kevin Rose and Digg capitulate and publish their Digg This: 09-f9-11… response, which has since racked up more than 35,000 diggs, passing the iPhone as the most dugg story in the site's history.
Overall this episode highlights the new dynamic of social media, where companies who live by their communities are sometimes led by those communities into potentially uncomfortable situations.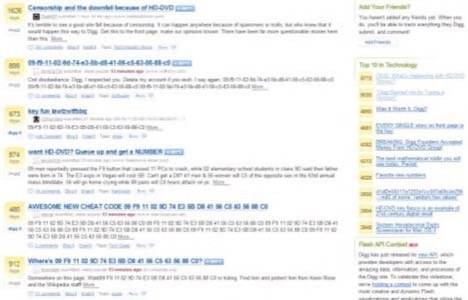 How Did Digg Do
As a leader in the social media space, Digg came out with a slight black eye from the episode. While Digg eventually succumbed to their community's demands, the delay and the initial response left a lot to be desired from the user standpoint.
The episode also raised a lot of questions about what else Digg might be censoring. At this point, it is reasonable to ask what it takes for a business to get a story removed from Digg. Is a cease and desist order all it takes? What was the decision making process behind the initial response of banning users and stories?
From a legal point of view, the reversal also indicates a calculated move. Only after thousands of sites published the key, did Digg decide to stop censoring as well. This makes Digg more of a follower (with lessened litigation risk) than a leader.
How Did AACS Do
If Digg looked bad, AACS and the MPAA came away from all this looking worse. They came across as heavy handed and out of sync with what web users (and possibly consumers?) want. By trying to defend their intellectual property via legal wrangling, they ended up causing the number to spread farther and wider than it likely every would have had they left it alone.
In spite of their initial heavy handedness, AACS has vowed to continue along the same course. That's absolute craziness on their part. There is no way they can go after a million sites and come away looking good, or even get very much accomplished. Also, they need to stop devising encryption schemes where the encryption runs along with the media. Such encryption schemes are really hard to protect and it is nearly impossible to stop the distribution of their key once it has been discovered. Instead, they should focus on working with customers to provide legitimate channels to get desirable content.
Where Did This Passion Come From?
For me personally, an interesting element of the story was trying to understand the source of the passion for the community. There are numerous examples of that passion, with individuals tattooing the code on their bodies, singing the code, printing it on t-shirts, etc. But where did this passion about a relatively obscure topic originate?
There is a bit of 'herd mentality' at play. Check out some of my previous analysis on Digg users acting in a herd and the herd aspect of human nature.
Some have said that the community was amused by the idiocy of trying to defend a number and were reacting so passionately out of entertainment value. But I think people would have reacted more or less the same way if the story had been, say, a computer program that executed the crack.
I think the community was really reacting to intellectual property laws gone amok. This reaction is just a tip of the iceberg of bigger issues with patent and IP where companies have been allowed to patent life saving drugs, agricultural companies are patenting our food supply and some companies are even patenting our genes all in order to make money. A number of communities are reacting to this exploitation of socially important IP for financial gains. I believe this is the source of the real passion.
Conclusion
This episode marks a watershed movement that highlights the power of the Internet and social media in giving voice to the community member and really challenging existing business/social practices. For traditional media, it is just not possible to give air time to such a voice. My advice for businesses would be to pay close attention to this voice as it is only going to get louder.