You're gearing up your business's growth strategy to leverage AI (artificial intelligence), ML (machine learning), NLP (natural language processing) and a menu of other robo-acronyms. Let's take a look at why AI chatbots are a unicorn growth tool for businesses using AI today. Here are twelve of the web's best business bots.
Why Are Bots So Amazing for Business Right Now?
Customers are very comfortable interacting with chatbots; 75 percent of customers would rather chat with businesses than email or call them.
Chatbots shine in critical areas for business and marketing, including lead generation, sales enablement, and customer support cost savings.
Chatbot marketing is a wave worth riding — in fact, take a look at the numbers:
Practically half (47 percent) of consumers would buy from a bot.
Chatbots can help customers locate the exact product they need, resulting in nearly 2X the average order value.
By 2020, customer support chatbots will save companies $8 billion in customer support costs.
Facebook marketing engagement soars by 154 percent when Facebook chatbots are in play.
Chatbot-backed lead generation, chatbot-based FAQs, and customer support bots are all unicorns of the AI and marketing automation world today. Bots offer a ton of value, both to the bottom line and in the world of engagement. Hence, bot business technology is getting tons of buzz.
What is a Chatbot?
Chatbots are software designed to simulate conversations with real people in chat apps. Also known as "conversational agents," bots are virtual company representatives. Typically chatbots providing support to customers and to a business in terms of automated customer communication. Often, the bot acts as the first-responder and issue router, at which point the issue is resolved or a human can pick up the conversation.
But less than a decade ago, most companies weren't equipped to leverage the technology. Bots required specialized programming skills, and that wasn't something every business had on staff. Luckily, the chatbot-building world changed. Today, there are simple solutions that can help anyone create an amazing bot.
Drag-and-drop interfaces make bot creation intuitive, so you don't need a fancy degree to create a stellar customer engagement unicorn.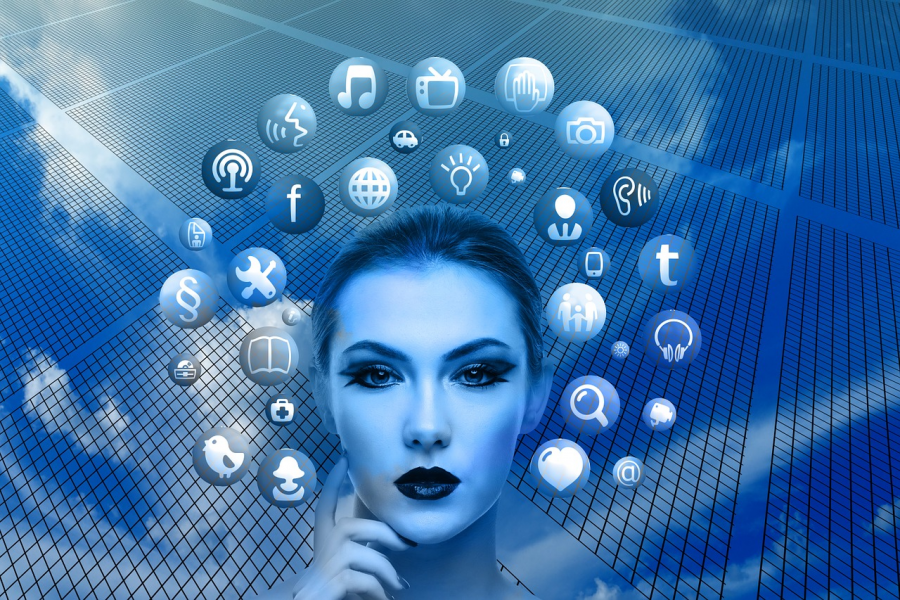 With a WordPress chatbot, you can even put the Facebook Messenger bot right on your website with a one-click WP plugin. When a customer interacts with a business's Facebook Messenger chatbot, they can ask questions, navigate a conversational menu, sign up for emails from your company, and so much more.
Plus, bots can harness the power of Facebook Messenger, one of the most popular communication platforms in the world, and its tie into Facebook user data. Facebook bots feature a unique power in the bot world – instant lead capture. Anyone that messages the bot instantly becomes a saved contact and leads to a fast-growing contact list.
Here are 12 real-life businesses using chatbots as a unicorn-level tool for streamlining customer communication and boosting engagement and sales.
12 of the Best Business Chatbots
1. LEGO
When LEGO wanted to boost online sales by creating a platform that could deliver gift recommendations and guide shoppers through its massive catalog, it knew it needed a chatbot. When the user engaged with the bot, they were greeted by a friendly and vibrant experience, all designed to steer them through LEGO's offerings.
During a short campaign, LEGO secured 2.4X higher ROI through click-to-Messenger ads than those that sent traffic to the LEGO website. The cost per purchase was also 71 percent lower with the chatbot, and the bot led to 1.9X higher-value purchases.
2. MobileMonkey
At MobileMonkey, the goal of the business is to broaden the reach and lower the cost of lead acquisition with a chatbot. With the rising cost of Facebook ad traffic campaigns, it's clear that there has to be a better way. By using Facebook Messenger ads that sent users to a chatbot instead of a landing page, every lead is captured. That's right; the lead capture rate is 100 percent of everyone that talks to the chatbot.
Plus, Facebook ad CPA is reduced by an astonishing 97 percent when replacing the traditional ad landing page with a Facebook Ads chatbot. Instead of CPA sitting at $150 or $250 each – the cost per lead MobileMonkey gets from typical website traffic conversion campaigns– the Facebook Messenger ad approach comes in with a CPA of $3 to $5.
3. Car Loans Canada
By embracing click-to-Messenger ads and designing a chatbot to help applicants complete car loan applications, Car Loans Canada saw CPA decrease by 44 percent. Their conversation rate soared by 74 percent, and the company secured 2.3X ROAS.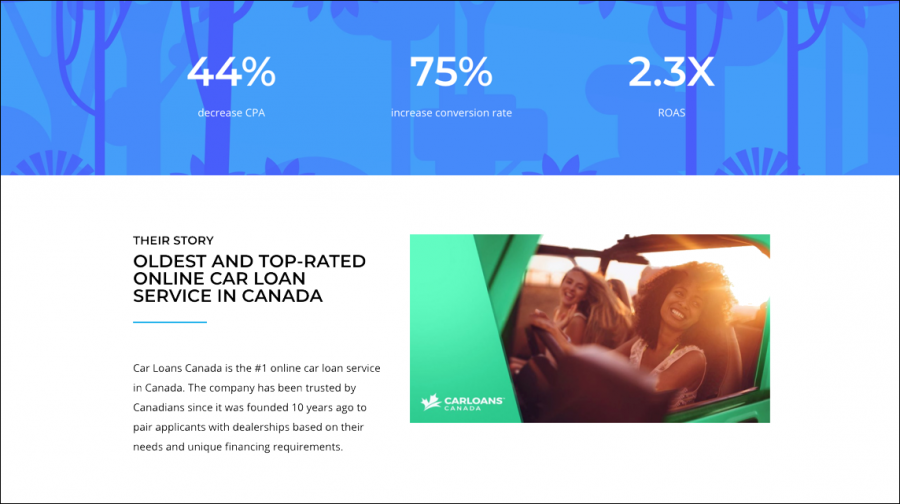 The ads were targeted to reach Car Loans Canada's ideal market, increasing the likelihood that any clicks would be higher quality leads. Plus, the chatbot made the loan application process simple, reducing the number of questions customers had to answer by 5 percent (when compared with the web form).
Not only does the company secure a great ROI, but it also improves the applicant experience.
4. Messenger Business
When Facebook Business wants to teach companies how to make the most of Messenger, they turn to a bot.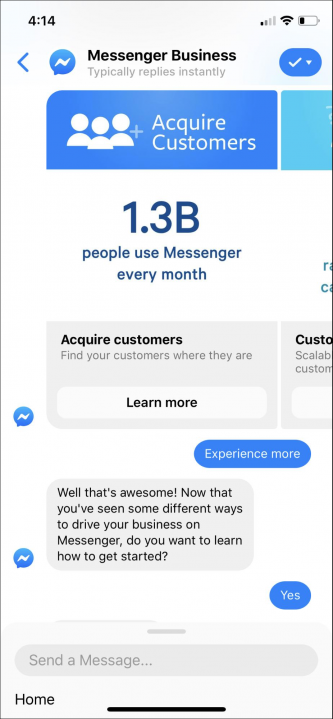 Companies can select from a range of options and get directed to valuable resources and case studies selected to help them build stronger relationships with their customers and boost engagement.
5. Whole Foods
Through a Facebook Messenger chatbot, Whole Foods was able to create a fully interactive recipe resource. Users can access the virtual cookbook and browse the content. Or, they can enter details about the ingredients they want to use (including through emojis) and get recommendations.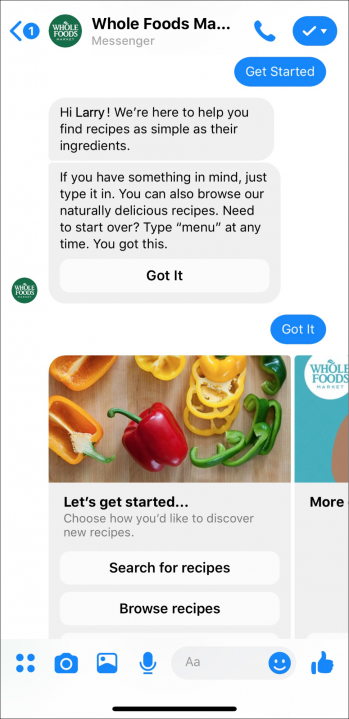 If they find a recipe they like, they can even proceed to an online order, making it easy to get everything they need to create a delicious meal or beverage.
6. Fandango
Fandango's Messenger bot is designed to make finding information about movies and reserving tickets as easy as possible. Users can search for specific films, watch trailers, find theaters in their area, and view details about trends. Plus, if they find a movie they want to see, they can easily move forward with a ticket purchase.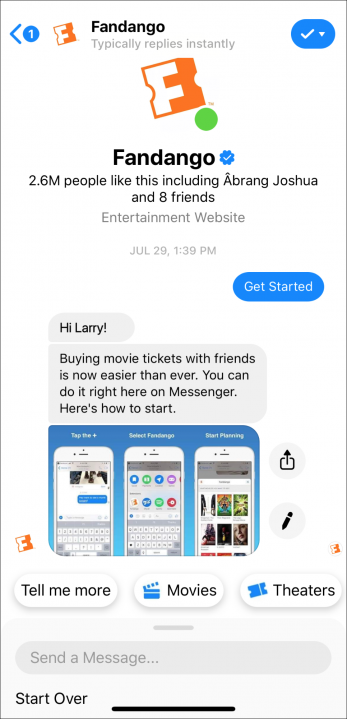 The beauty of the Fandango chatbot experience is that it is genuinely focused on engagement over sales.
While it makes getting tickets simple too, the purpose is to allow people who love movies to get information they need on a platform they use on a daily basis.
7. 7-Eleven
Instead of relying solely on a separate app, 7-Eleven decided to find a way to make their rewards program simple and intuitive.
With the use of a Facebook Messenger bot, the company streamlines the signup process.
Plus, they integrate options for checking rewards status, redeeming points, and even finding the nearest 7-Eleven location.
Since rewards programs are excellent for collecting customer data, bringing the program onto Messenger just makes it more powerful.
It's sitting on a platform people use every day, making it convenient for customers, too.
Thrilled to launch the 7-Eleven Messenger Bot, featuring the 7Rewards loyalty program – no need to sign up for a bar code. Bot: https://t.co/pYVkjTxnE4 Press release: https://t.co/dOJKskCez9 pic.twitter.com/a1vaeZZeRd

— Conversable (@conversable) November 20, 2017
8. Gorillaz
Another bot that is branding and engagement-focused was created for Gorillaz. It offers fans of the band Gorillaz an interactive story where users control decisions about what happens to band-member Murdoc. New episodes were released strategically to promote the release of Gorillaz's studio album, The Now Now.
Millions of messages were exchanged between the bot and fans, and session times averaged over 7 minutes in length.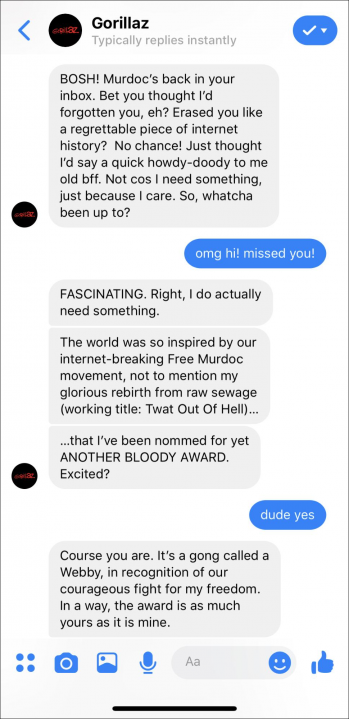 Reengagement rates were also stellar, with 64 percent of users coming back after their first conversation to continue with the story.
9. UNICEF U-Report
The U-Report chatbot gives everyday people a place to voice their concerns about pressing social issues.
Nearly 7.8 million people registered with the bot (representing a global audience), and focuses on topics that are relevant to various communities.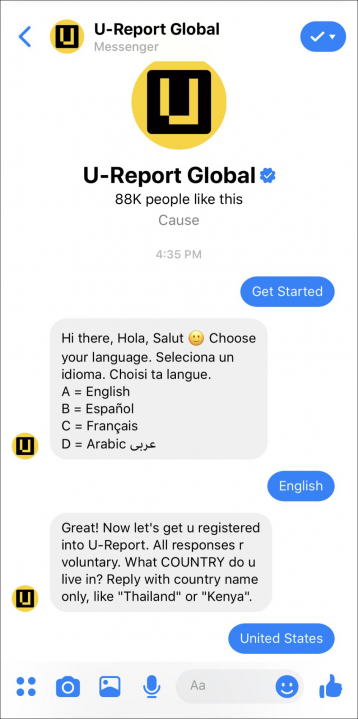 The data collected is used to promote change based on what is on people's minds.
UNICEF uses the information to improve its programs, allowing it to be responsive to shifting public sentiment.
10. Summit Academy OIC
At Summit Academy OIC – a tuition-free accredited vocational school – the goal was to increase enrollments without having to break the bank.
Through the use of a Facebook Messenger ad campaign, they achieve a 10X lower CPA in comparison to other kinds of Facebook ads.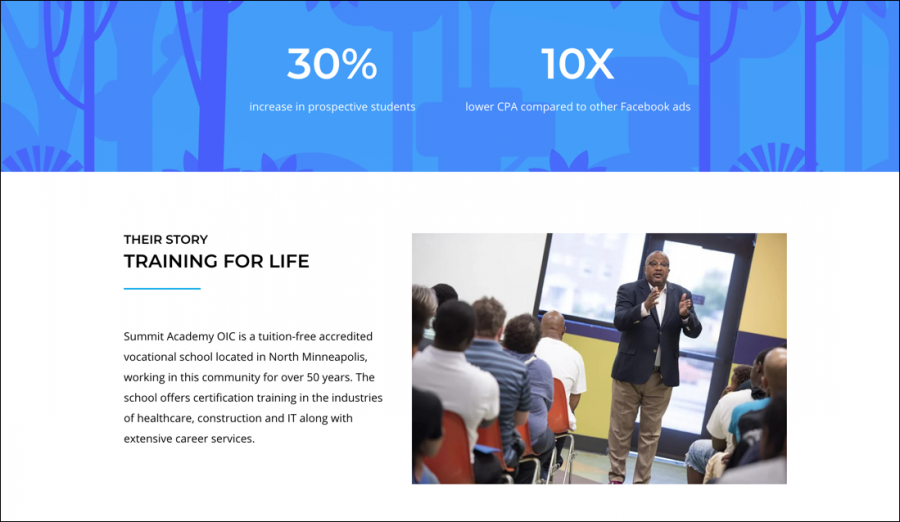 And, they saw the number of prospective students increase by 30 percent.
11. Boot Camp Digital
The Boot Camp Digital chatbot isn't just a generic place to get information; it's an engaging experience injected with humor.
The user receives simple options to choose from, allowing them to easily navigate conversations about digital marketing, finding training options, and more.
Since the process is interactive, it keeps the audience involved.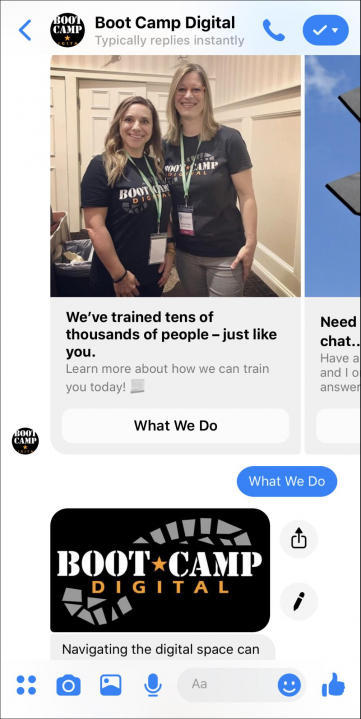 The information is presented in a highly digestible manner, ensuring everyone can follow the conversation with ease.
After a potential customer gets to know what Boot Camp Digital offers as a business, they're invited to follow along and keep the company top-of-mind with content updates shared by the AI bot.
12. Gary Vaynerchuk
Revered marketing and wine expert Gary Vaynerchuk created a simple bot designed to make it easy to sign up for a VIP messaging service.
First, the user sees a quick video, introducing them to the concept.
Then, they can get started with just a click.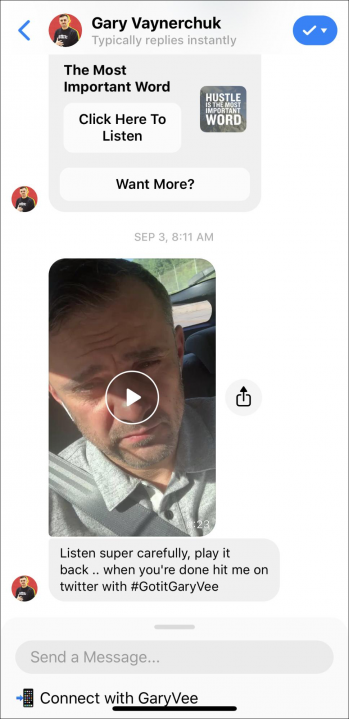 Brand awareness?
Check.
Raving fans?
Check.
Engaged and growing monetizable audience?
Check.
Everyone who signs up is raising their hand to be at the front of the line for updates from Gary Vee.
How to Build Your Own Chatbot
With the right tools, building your own chatbot is the same as designing an email campaign, landing page or a Facebook ad. You use visual content editors to build a bot. While it's tempting to jump right into the meat of the digital conversation, your first step always needs to be the same:
Create a warm, welcome dialogue to start the experience off on the right foot.
Once that is in place, you can develop branches that align with your marketing funnels, program simple Q&A responses to allow your bot to answer FAQs, and support other business objectives from branding to lead gen to sales enablement.
After you've set up the bot, you need to create various entry points beyond the "Send Message" button if you want your unicorn chatbot to really sparkle.
Here's a look at different options for creating points for customers to engage with your bot.
Website Chat
When your website chat is automated with a Facebook Messenger bot, you can engage with site visitors automatically and instantly using one of the most popular platforms on the planet.
This approach comes with a ton of other benefits too, including:
24/7 Instant Response: Chatbots can answer customer questions at any time instantly, ensuring your customers aren't stuck waiting
Lower Payroll Costs: You don't have to staff live operators to answer simple questions, allowing you to keep a smaller team that focuses on questions the bot can't answer
Always Mobile-Friendly: Facebook Messenger chat interfaces are mobile-friendly by design
Build Your Contacts: Every interaction through your Facebook Messenger chatbot widget captures contact details, allowing you to launch relationships that you can nurture over the long-term
Getting your website chat off the ground couldn't be easier. Just:
Make sure Google Tag Manager is installed on your site.
Head to MobileMonkey to design your chat widget.
Copy code from MobileMonkey into Google Tag Manager to add your bot to your site.
Or if you have WordPress, you simply download the WP-chatbot plugin.
MobileMonkey walks you through the process using a simple approach that guides you through the whole setup, including adding your greetings, chat widget color, and the follow-up bot response.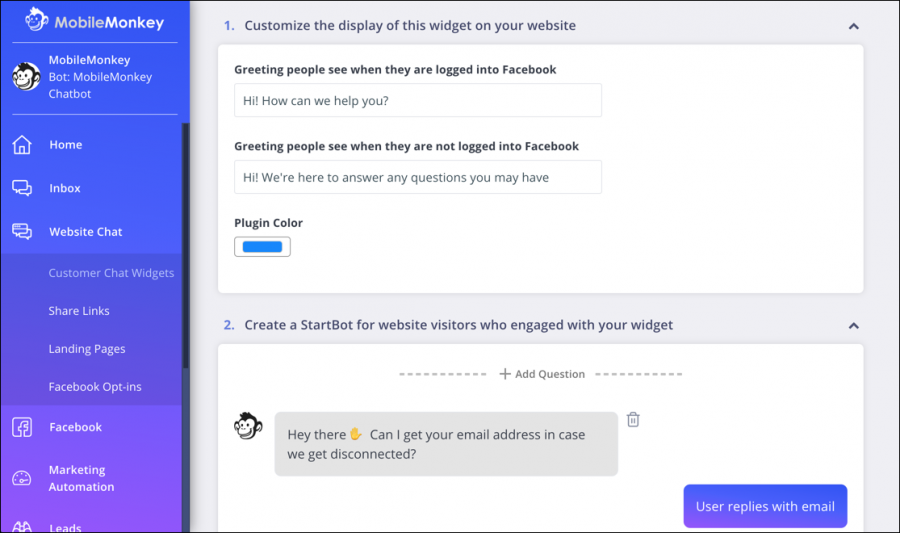 Once complete, MobileMonkey creates the code for you.
Just click Copy, and you can add the Custom HTML without having to write a single line of code yourself.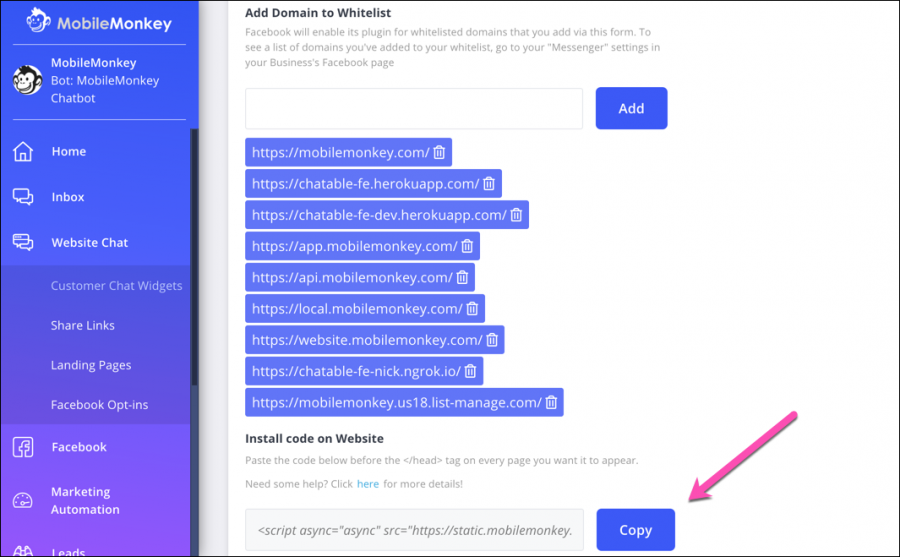 Comment Guard
When a Facebook user comments on your post, they are engaging with your brand. With Comment Guard autoresponders, you can turn that engagement into a lead-generation opportunity.
Here's what you gain with Comment Guard:
Enhance engagement by doing what you're already doing on Facebook
Convert your commenters into leads
The entire process takes just minutes! Create your autoresponder in MobileMonkey, add it to a Facebook post, and you're set.
Here's a look at the steps:
Create your Autoresponder Funnel
Create your Comment Guard
Write a Greeting for the Autoresponder
As soon as a user leaves a comment, a bot sends an automatic response to the post on Facebook Messenger, leading the user to your chatbot and encouraging further engagement.
Facebook Ads with Chatbot "Landing Page"
Facebook ads that send users to your website are donkeys.
Sure, the person might make a peruse your site or make a purchase, but they might not. If they decide to leave your site, you end up with almost nothing.
With Click-to-Messenger Facebook Ads, you get so much more.
What are Facebook Messenger ads? To start, Facebook click-to-Messenger ads feature:
Instant Lead Capture: You get the user's name, location, language, and gender automatically, and it happens 100 percent of the time
Lower Cost per Lead: Click-to-Messenger ads costs are 10X lower than traditional Facebook campaigns with the traffic or conversion objective
Easy Follow-Up: Since none of the traffic is anonymous, you can follow up with every contact, allowing you to send enticing offers to nurture the lead and increase engagement
Interactive and Conversational: Facebook Messenger bots don't just show users a message; they engage them in conversation, making the entire experience more memorable. Plus, you can gather information to segment your audience based on interest
Creating a Facebook Click-to-Messenger campaign that sends users to your bot is simple, especially if you're familiar with running Facebook Ads. Just:
Make a Messages ad campaign in Facebook Ads Manager.
Design a chat marketing funnel.
Create a bot in MobileMonkey to engage those who click.
Automatically sync the bot to follow-up.
When a person clicks on your ad, they get sent to Messenger, making it easier for them to learn more in an interactive and engaging way. As you drive traffic to your chatbot, you experience immediate gains. No matter what, you are growing your contact lists while supporting your other objectives.
Few marketing platforms can provide 100% lead capture like a Facebook Messenger bot.
Important Next Steps for Chatbot Marketing
Businesses are already increasing lead volume, cutting cost per lead and saving costs with automated  Facebook bots for business — a unicorn customer communication channel.
Create your own chatbot today by coming to Mobile Monkey and click the app sign-up. You'll see your bot be a unicorn launcher to your company's higher engagement, better conversion rates, and lower marketing costs.